TROVA UN NOME CELEBRE AL TUO CUCCIOLO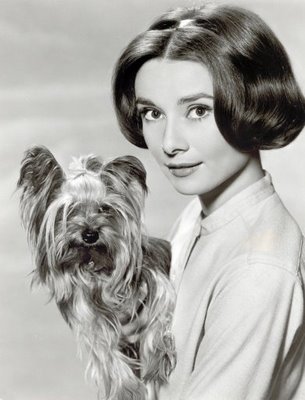 Sono molte le celebrità in ambito canino: da cani attori a cani di star dello spettacolo
Diamo una sbirciatina per vedere che nomi hanno queste Celebrities...e forse troveremo un'idea anche per il nostro nuovo cucciolo!
foto a lato Audrey Hepburne e il suo piccolo Mr Famous
Dodo...

Yorkshire of Ivana Trump

Luath...

Top celebrity dog name from "The Incredible Journey".

Lola...

Hilary Duff's dog.

London...

The Wonder Dog--from "The littlest Hobo".

Louie...

Crime boss from the cartoon "The Dogfather".

Liberty...

Gerald Ford's Golden Retriever.

Lucy..

Charlie Sheen's dog.

Ludo...

One of Will Smith's dogs.

Lulu...

The brilliant Joan River's Boston Terrier.

Lupus...

Character from Shoot-em -up game "Jet Force Gemini".

Laika...

A real top dog name....The 1st dog in to space.

Jazzmine...

yorkshire of football player Brett Favre

Mafia...

Marilyn Monroe's Poodle. A gift from Mr Sinatra.

Manchu..

.Pekingese owned by Alice Roosevelt.

Marley...

The Labrador from the book "Marley and Me".

Marmaduke...

The comic strip Great Dane.

Matisse...

The Border Collie from "Down & out in Beverley Hills".

Max..

.The Bulldog from "Jake & the Fatman".

Millie...

Barbara Bush's Springer Spaniel.

Milo...

From the comic and movie "The Mask".

Mopsey...

George Washington's Hound dog.

Montmorency...

Jerome K Jerome's fictional Fox Terrier.

Moses...

The Focker's dog in "Meet the Fockers".

Murray...

Canine character from the show "Mad about you".

Muggs...

An Airedale owned by the great James Thurber.

Muttley...

"Wacky Races" crafty sniggerer.

Mumbly...

Cartoon dog a lot like "Muttley".

Nana...

The Newfoundland in "Peter Pan".

Napoleon...

The Bloodhound in "The Aristocats".

Nipper...

The original HMV Terrier mascot.

Nimrod...

Sir Walter Scott, the Scottish poet's Hound dog.

Old Shep...

Elvis Presley's famous dog name.

Orson...

Black Labrador character from D Koontz's novels.

Oscar...

Canine character from "Curb your Enthusiasm".

Otis...

The Pug movie star of "The adventures of Milo & Otis".

Pasha...

Tricia Nixon's Yorkshire Terrier.

Pete...

Theodore Roosevelts ferocious Bull terrier

Petra...

The 1st "Blue Peter" dog of UK Children's TV fame.

Phiz...

The courageous Helen Keller's Boston Terrier.

Pickles...

Found the stolen World Cup in 1966.

Pilot...

Character from Charlotte Bronte's "Jane Eyre".

Pippin...

Aunt Mabel's dog in the BBC's "Come Outside".

Pluto...

A celebrity dog name--or What?

Poncho...

Rapper-Missy Elliot's Yorkshire Terrier.

Pooka...

Canine Character in the movie "Anastasia".

Poppy..

.Tim Burton's dog--featured in "Mars Attacks".
Porthos...

James Barrie's dog in the movie "Finding Neverland".

Preston...

Wallace & Gromit's deadly K9 adversary.

Puff...

The Poodle from the animated series "Proud Family".

Rags...

Robotic talking dog in "Sleepers".

Raven...

Pomeranian companion of singer LeAnn Rimes.

Rin Tin Tin..

.Famous dog name of a real canine hero.

Roger...

Steve Martin's dog.

Roobarb...

Eponymous UK cartoon character.

Rowf...

Character from "The Plague dogs".

Rufus...

Poodle owned by Winston Churchill.

Sammy...

Barbara Streisland's Bichon Frise.

Scamp...

Lady & the Tramps little pup--aaahhhh!

Scooby-Doo...

This Great Dane needs no intro.

Shep...

BBC's "Blue Peter" Border Collie.

Seaman...

US explorer Meriwether Lewis's Newfoundland.

Seamus...

Singer Steve Marriot of "The Faces" dog.

Sergeant Stubby...

America's most decorated war dog.

Shannon...

The oh so sad song by Henry Gross.

Shelby...

Superhero's dog in "Smallville".

Shiloh...

The Beagle of Phyllis Reynolds Naylor's novels.

Skip...

Theodore Roosevelt's cross-breed.

Snoopy...

Hero from comic strip "Peanuts".

Snowy...

From the cartoon "The Adventures of Tintin".

Snuppy...

An Afghan Hound---the 1st cloned dog.
Solomon...

Oprah Winfrey's chocolate Cocker Spaniel.

Sophie....

The comic strip Labrador from "Dog eat Doug".

Sparky...

"South Park's" unusual dog!

Spike...

The yorkshire of Joan Rivers.

Sprocket..

Canine character in "Fraggle Rock".

Stormy...

The black Labrador from the book "Stormy".

Strelka...

Sent in to space aboard Sputnik 5.

Sugar...

Elizabeth Taylor's Maltese Terrier.

Sui...

Bull Terrier owned by the late Steve Irwin.

Tawny...

Yellow Labrador whose first litter produced 18 puppies.

Templeton...

Drew Barrymore's dog.

Tiger...

Smart dog from "The Brady Bunch".

Tinkerbell...

Paris Hilton's dog.

Toby...

Sherlock Holme's dog in the "Sign of Four".

Togo...

Siberian Husky & renowned lead sled dog.

Toto...

Dorothy's dog in "The Wizard of Oz".

Tramp...

Disney's top celebrity dog name.

Trudy...

Singer/songwriter, Jose Feliciano's seeing eye dog.

Trusty...

The Bloodhound character from "Lady & the Tramp".

Tulip...

German Shepherd the focus of "My dog Tulip".

Tyke...

Spyke the Bulldog's son from "Tom & Jerry".

Uga...

Bulldog mascot of the University of Georgia.

Verdell...

The Griffon Bruxellois star of "As good as it gets".

Vida...

Yorkshire Terrier owned by model Giselle Mundchen.

Weederman...

Straight from the comic strip pages of "Mister Boffo".

Willy...

US General George Patton's Bull Terrier.

Wishbone...

The Jack Russell star of the TV show of the same name.

Wolfie..

.Bruce Willis's Yorkshire Terrier.

Yukie...

Lyndon B Johnson's dog.

Zeus...

Oneof Robin Masters Doberman's in "Magnum PI".

Zhaki...

Will Smith's Rottweiller.
Torna alla lista degli articoli per questa sezione